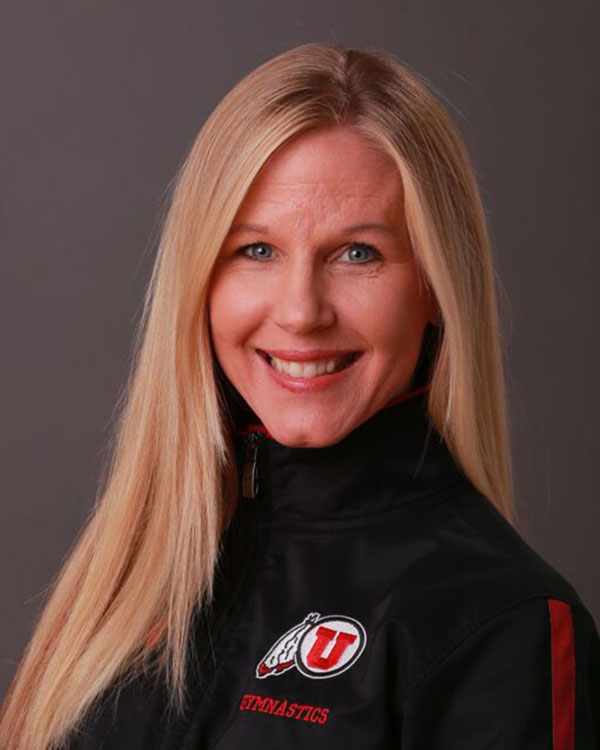 Year at Utah: 2nd
Coaching Timeline
2016-present: Utah Assistant Coach
2015: Arizona Assistant Coach
2007-2014: SCEGA Head Coach
1997-2006: SCEGA Assistant Coach
1996: California Assistant Coach
1995: Olympus School of Gymnastics Coach
Education
Utah, 1994
Bachelor's Degree in exercise and sport science
Personal
Hometown: Twenty Nine Palms, Calif.
Birth Date: April 26, 1971
Family
Married: George
Children: Corbin, Blayne and Avery
Assistant Coach
MEREDITH PAULICIVIC
In her second year as Utah's assistant coach, former Ute All-American Meredith Paulicivic (pronounced paul-a-civic) has already begun putting her stamp on the program. An element Paulicivic brings to the program that it has not had for decades is a background as a high-level choreographer. Her skill in choreography has brought a new look to Utah's floor routines.
This season, in addition to her responsibilities designing and coaching the choreography and dance elements on floor, Paulicivic will serve as Utah's primary vault coach. She has familiarity with that event at Utah as well, as a former three-time vault All-American.
She is also the director of Utah's summer gymnastics camps, is responsible for the music selection and production for Utah's routines and assists with recruiting.
In her first season coaching at her alma mater in 2016, Paulicivic mentored Pac-12 champion Tiffani Lewis and second-team regular-season All-American Breanna Hughes on floor.
Paulicivic draws from both a club and NCAA coaching background. Her 18 years as an assistant or head coach at SCEGA Gymnastics in Temecula, Calif., were sandwiched between stints at Pac-12 schools California (1996) and Arizona (2015).
At SCEGA, she coached six U.S. National Team members and a number of elite level gymnasts. Among those was former Ute All-American Rachel Tidd, who was a three-year U.S. National Team member while at SCEGA and competed on the U.S. World Championships team that won the bronze medal in 2001. Another of Paulicivic's 31 SCEGA gymnasts to earn an NCAA scholarship was 2010 NCAA floor champion Brittani McCullough of UCLA.
Her first job was with Olympus School of Gymnastics in Salt Lake City in 1995 and her first college coaching position came a year later at Cal. She spent one year with the Bears before leaving for a position with SCEGA Gymnastics. From 1997-2006, she served as the assistant coach and the head choreographer for floor and beam at SCEGA—taking over as the head coach in 2007.
After eight years as the head coach at SCEGA, Paulicivic accepted an assistant coaching position at Arizona, where she spent one season (2015).
As a gymnast at Utah from 1991-94, the former Meredith King competed for two Utah NCAA Championship teams (1992, 1994). She was a three-time vault All-American and a team captain her senior season.
The Twenty Nine Palms, Calif., native graduated from Utah in 1994 with a bachelor's degree in exercise and sport science. She is married to George Paulicivic. They have a son Corbin and daughters Blayne and Avery.