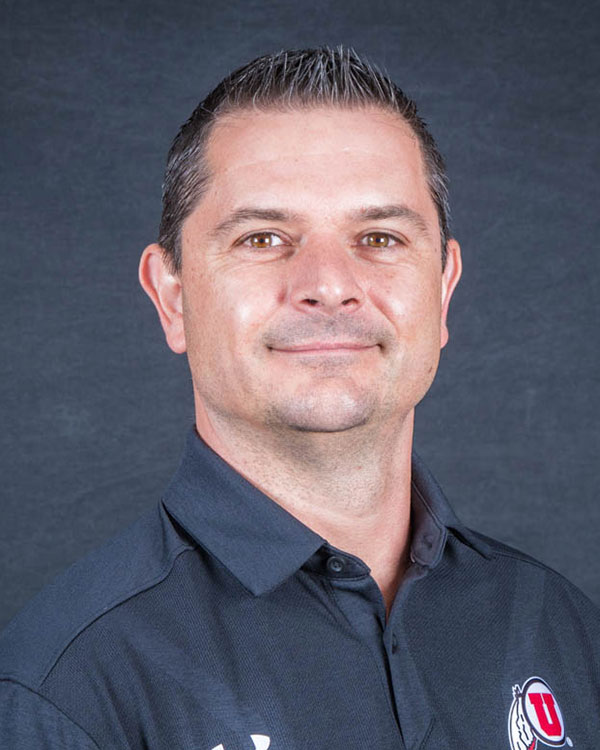 Year at Utah: 2nd
Coaching Timeline
2018-present: Utah Assistant Coach
2016-17: Denver Assistant Coach
2006-2015: Florida Assistant Coach
2002-2005: Mihaiuc Gymnastics Academy Assistant Coach
2001-2002: Academy of Gymnastics and Dance Assistant Coach
1997-2001: S.G. Amsicora (Cagliari, Italy) Head Coach
1994-1997: Romanian Junior National Team Head Coach
1992-1997: CSM (Baia Mare, Romania) Head Coach
Coaching Highlights
NCAA Region Co-Coach of the Year: 2011, 2013, 2015
NCAA Champions: 4
All-Americans: 52
Education
Romanian National School of Coaching
Degree in International High Level Gymnastics
Personal
Hometown: Baia Mare, Romania
Daughters: Gabby and Laila
ROBERT LADANYI
Assistant Coach
Assistant coach Robert Ladanyi got off to an impressive start in his first season at Utah. As the Utes' primary vault and floor coach, Ladanyi (pronounced lad-an-knee) produced an NCAA champion, two regional winners, two Pac-12 titlists and seven All-Americans in 2018.
MyKayla Skinner became Utah's first NCAA vault champion since 1992, giving Ladanyi his fourth NCAA champion in 13 years of college coaching. His other NCAA individual winners were Florida's Alaina Johnson on bars (2013), Florida's Bridget Sloan on bars (2014) and Denver's Nina McGee on floor (2016). Johnson and Sloan were the first two NCAA uneven bar champions in Florida history, while McGee was Denver's first gymnastics national champion.
Ladanyi's Utah lineups also featured two NCAA regional and two Pac-12 titlists last season with Skinner winning vault and tying with MaKenna Merrell-Giles for first on floor at regionals, and Skinner winning floor and Merrell-Giles vault at the Pac-12 Championship. Skinner (4) and Merrell-Giles (2) combined to earn six NCAA and/or regular season All-America honors on vault and floor, while freshman Sydney Soloski was an NCAA All-American on floor. The seven awards brought the total number of All-America performances Ladanyi has coached in his career to 52.
Ladanyi spent a decade as an assistant coach at Florida from 2006-15—coaching vault and tumbling from 2006-10 and bars from 2011-15 (when he also served as the Gator gymnastics co-conditioning coach). He was a three-time Southeast Region Co-Assistant Coach of the Year in 2011, 2013 and 2015.
The Gators qualified into the NCAA Championships all 10 years with Ladanyi on the staff and won three team titles (2013, 2014, 2015). Along with his two national bar champions, he mentored five NCAA individual vault finalists. Florida's 12 representatives in the NCAA floor finals from 2006-10 led the nation during that period. His Gator gymnasts earned 43 All-America honors on vault, bars and floor, including 37 at the NCAA Championships (15 on floor, 14 on bars and eight on vault), and six regular-season All-America awards on bars.
Ladanyi's next stop was Denver, where as an assistant from 2016-17 he helped the Pioneers to their best NCAA finish ever in 2017 (ninth). In his two seasons at DU, he coached an NCAA champion and two All-Americans.
Ladanyi also has experience as the head coach of a national team and as a club coach. The Romanian Junior National Team head coach from 1994-97, he doubled as the head coach of the Romanian club team CSM, which he coached from 1992-97. He also coached at the Mihaiuc Gymnastics Academy in Webster, Texas (2002-05); the Academy of Gymnastics and Dance in Las Vegas (2001-02); and S.G. Amsicora in Cagliari, Italy (1997-2001).
Ladanyi was an accomplished gymnast himself, training with the Romanian National Team before retiring from competition due to injury at age 19. He graduated from the Romanian National School of Coaching with a degree a degree in International High Level Gymnastics.
He has two daughters, Gabby and Laila.